8 Psychological Principles to Increase Your Upsells and Cross-Sells
Most estimates suggest it costs five to seven times more to acquire a new customer than it does to retain an old one. Yet a majority of marketing budgets are allocated towards user acquisition over loyalty. As a store owner, increasing average customer lifetime value and order totals are among the smartest business decisions you will ever make.
In 2013, MarketingProfs reported, "FiveStars performed an analysis of 14 million store visits from more than 1 million customers, as well as the results of loyalty programs from over 2,000 businesses." One of the more critical findings was, "Loyal customers spend 10 times more than new ones." To extract more value from customers without exploiting them, savvy e-commerce brands use upsells and cross-sells.
Science suggests there are a number of important psychological triggers that convince consumers to spend more in a manner at benefits everyone. Below, are eight that will teach you how to effectively encourage shoppers to purchase more during each visit.
1. Compound Value
Shoppers love a good deal. But, unprompted, they may not always see it. Frame upsells and cross-sells in a manner that make customers' lives easier and help them win.
Len Markidan of help desk software company Groove believes, "Upselling isn't just a sales tactic; it's a customer happiness tactic that can help you build deeper relationships with customers by delivering more value." Naturally, certain products go well together. Bundle merchandise to create a package filled with items that complement each other and provide customers with compound value.
When you order a moving truck through U-Haul, the checkout system turns into your personal concierge. It suggests add-ons that will make your move a lot easier.
Would you like a utility dolly or furniture pads for your 10' truck? "Save time and prevent damage to your belongings by renting dollies and furniture pads."
How about moving boxes and packing tape? Add boxes & packing supplies too.
Do you need a moving crew? "Save your back! Hire a Moving Helper in your area to load your equipment."
Utility dollies, packing tape and movers are meaningless purchases outside of the context of an actual move. But those items in addition to a moving truck make sense. U-Haul knows explicitly what people need in order to painlessly relocate their possessions and upsells its customers on those extras.
To upsell and cross-sell effectively, businesses must understand users' motivations for buying certain products and suggest other items that complement purchases. A sneaker store loses out on a major revenue source when it fails to stock socks. To increase average order value, it should recommend shoppers add a few pairs to their shopping carts.
2. Convenience
Because time is such a limited commodity, customers are happy paying a premium for convenience. That is why services such as Uber, TaskRabbit and Instacart thrive.
Similarly, subscription services have exploded by eliminating the need to repeat menial tasks. For stores that sell goods customers regularly purchase, subscriptions remove the friction of having to log onto a site every month to reorder the same items again. By simplifying the shopping experience, e-commerce brands that offer auto-renew subscriptions allow clients to repurchase things they need seamlessly.
At MeUndies, an underwear retailer, customers may sign up for a monthly underwear shipment. On one of its product pages, a promotion reads, "Get this pair today and receive our new, curated Design of the Month every month at our member-only price."
Product subscriptions offer convenience for shoppers and predictable revenue for stores. Upsell customers on an easy solution for weekly, monthly or quarterly replenishment.
3. Incentives
These days, shoppers are spoiled, but e-commerce store owners may use that to their advantage. Free shipping both ways has become an industry standard practice. But for businesses aiming to increase average order totals, free delivery should only be reserved for orders above a certain dollar value.
For example, clothing retailer Express only offers free shipping when customers spend $125 or more.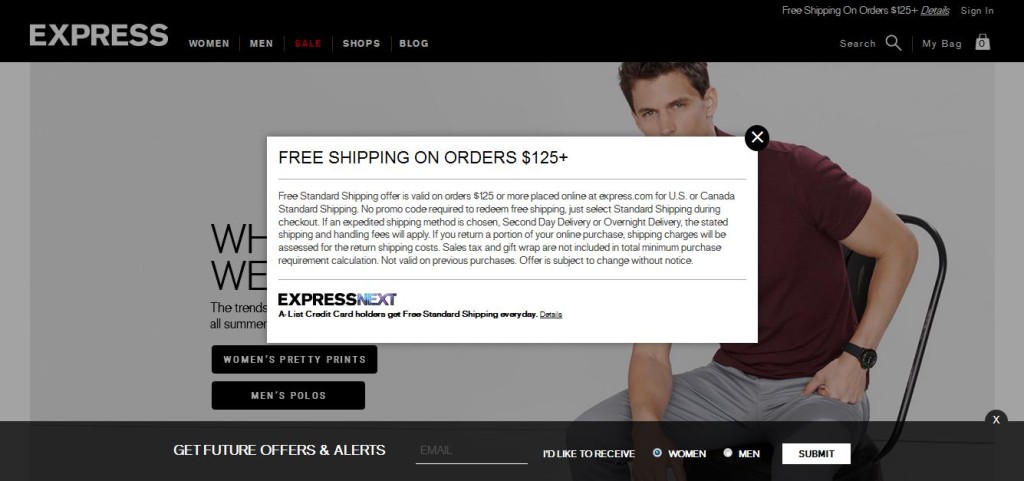 Similarly, other stores give instant discounts when customers spend above a specified minimum order value. In a recent promotion, G.H. Bass offered $15 off purchases of $75 or more.
Even when shoppers only find one or two items they love at a store, they will relentlessly search for additional merchandise to add to their cart in order to claim money-saving offers.
4. Paradox of Choice
In his 2005 TED talk, psychologist Barry Schwartz introduced the paradox of choice. He shared, "Choice has made us not freer but more paralyzed, not happier but more dissatisfied."
When people are presented with too many choices, they get overwhelmed and are less likely to purchase. In most cases, strategically limiting a customer's options increases sales. Alternatively, businesses may empower buyers to select all.
When shoppers face decision paralysis, let them try everything.
Zeno's World's Most Famous Taffy understands its customers want to bite off more than they can chew. To keep the options budget-friendly yet still increase average order values, the company offers its Try 'em All Taffy Candy Box filled with all (more than 90!) of the brand's unique flavors.
5. Prestige, Ego-bait & Self-preservation
Many people purchase products to bolster their public image, boost their ego and feel better about themselves.
In an interview with Time, psychology professor Niro Sivanathan of London Business School and management and organizations expert Nathan C. Pettit of Cornell University revealed, "Our desire to consume high-status goods is not simply to signal status, prestige etc., but also a compensatory act to help soothe an ailing ego following psychological threats." Shoppers, more often than not, want their purchases to provide both emotional and practical value. Therefore, brands intent on increasing average order values should market their most expensive products in a manner that triggers consumers' egos.
Although Dollar Shave Club heavily touts its $1 razor, it places special emphasis on its premium blades which cost $6 and $9, respectively. Its cheapest razor is modestly named "The Humble Twin" whilst its most expensive blade is called "The Executive."
6. Reciprocation
Stores that sample products and give away goods counterintuitively profit. That is because, by nature, people are inclined to reciprocate kind gestures.
Behavioral economist Dan Ariely explains, "Reciprocity is a very, very strong instinct. If somebody does something for you, you really feel a rather surprisingly strong obligation to do something back for them." So, when a burger place offers free mini-sliders, passersby find themselves accepting the free offer and then purchasing a full-sized hamburger afterwards.
Wellness products company ALOHA baits potential customers with a free sample of its superfood supplements and then automatically enrolls them in a monthly subscription package. Though the tactic perturbs certain clients, many enjoy the company's 5-day trial enough to stick around. By giving away free product upfront, brands earn a positive first impression with shoppers.
7. Scarcity & Urgency
According to Robert Cialdini, the author of Influence: The Psychology of Persuasion, the principle of scarcity suggests "people want more of what they can have less of." He explains, "Study after study shows that items and opportunities are seen to be more valuable as they become less available." There is a certain satisfaction in purchasing a last item in stock. Limited-quantity goods also create a sense of urgency when shoppers worry they may have only one chance to complete a purchase.
In a blog post, the team at Visual Website Optimizer, a conversion rate optimization platform, suggests three ways e-commerce stores could use scarcity and urgency to boost sales.
Stock & size scarcity — Stores may highlight how many units they have of certain products before they sell out. Apparel retailers may also note the number of items that remain in a specific color or size.
Time-sensitive offers — Businesses may promote deals and discounts that are available for a limited time only. Countdown clocks may help demonstrate urgency too.
Last chance emails — To curb shopping cart abandonment, reel customers back in with an exclusive discount if they complete their purchase in a timely manner.
Flash sale sites such as Groupon, Gilt, and Ruelala do this exceptionally well.
8. Social Proof
Customers are reluctant to buy products from unfamiliar brands. To overcome that obstacle, brands must demonstrate social proof.
Jennifer Cardello of user experience consultancy Nielsen Norman Group describes social proof as "a psychological phenomenon where people reference the behavior of others to guide their own behavior." In an article, HubSpot's Pamela Vaughan lists 10 ways social proof can be used for marketing:
Social media mentions
Embedded tweets
Social plugins
Social media sharing & follow buttons
Case studies & testimonials
User-generated content
User reviews & ratings
Social advertising
User statistics
Media & blog mentions
Luxury mattress retailer Amerisleep understands the power of positive customer reviews. On its site, it highlights stories from satisfied sleepers.
These testimonials provide potential customers with the confidence they need to complete a purchase. To upsell Amerisleep's premium mattresses, the company cleverly features average review scores and total number of reviews alongside each of its products.
With feedback from more than 370 sleepers, the $999 Revere Bed boasts a 4.7-star rating and is labeled the company's most popular mattress. By leveraging social proof, Amerisleep influences shoppers to consider and, ultimately, buy its higher-end models.
How do you effectively increase upsells and cross-sells?